How the Green And Beige body scrub works ?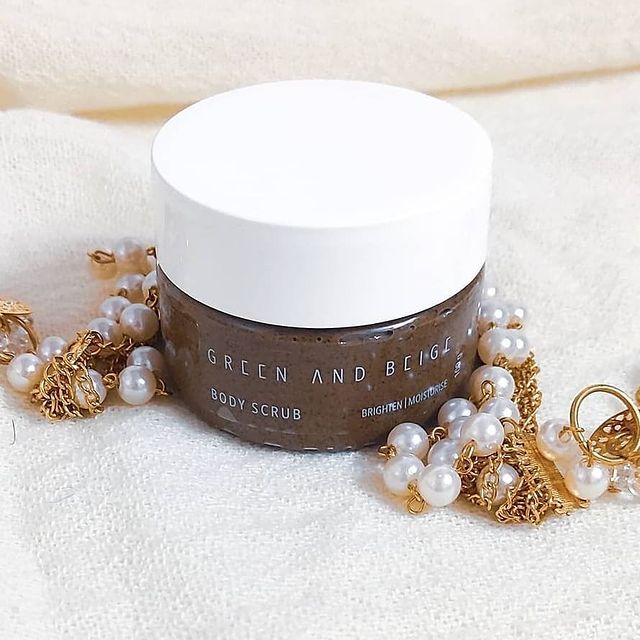 Packed with nourishing ingredients, this luxurious  Body Scrub is perfect for exfoliation and body polishing. Ever wished you could get the satisfying and invigorating feel of a massage at home? We know how you can, it's the Green And Beige Body Scrub. It has multiple benefits, makes use of clean ingredients that nurture your skin.
 Let's explore the role of the key ingredients in the Green And Beige body scrub and how it benefits your skin:
Coffee Oil, which is the hero ingredient of our Body Scrub. It soothes and moisturises the skin with its skin friendly property. It also gets rid of skin cells that have been affected by ultraviolet rays. An added advantage of the coffee oil is that it boosts collagen production, thereby tightening the skin.
Coffee gives the Body Scrub antioxidant properties that promote cell turnover, thereby promoting healthy, nourished skin.
Sugar melts on the skin on application acts as a humectant giving the skin a dewy feel.
Cocoa Butter gently treats dry, flaky and irritated skin.
Safflower Oil has a light, non-greasy formula that gets quickly absorbed into the skin. It contains a high level of linoleic acid that helps balance sebum levels in the skin.
Sunflower Oil is packed with vitamins such as Vitamin A and Vitamin E that play a huge role in enhancing skin health. They also act as antioxidants that help in the regeneration of dead skin cells.
Rosemary Extract provides long-term hydration and antioxidant benefits.
While most scrubs do the exfoliation process well, people tend to keep away from scrubs owing to the extreme tightness and dryness they cause over time. Sometimes the scrub particles are too rough on the skin leading to microtears which leave scars with repeated usage.  With most scrubs the properties of moisturisation and exfoliation don't make a team.  Also the fact that microbeads (made from plastics) is used in a majority of them leave them with being a threat to the marine life that unintentionally  feed on these.  Green And Beige Body Scrub is formulated with skin nourishing ingredients that leave the skin feeling fresh , moisturised, nourished, glowing and cared for with each use. The soft and silky feel is a perfect pick me up for any dull and damaged skin.  
Bid adieu to dry, flaky skin and say hello to healthy, supple and radiant skin with the Green And Beige Body Scrub, the ideal way to exfoliate.