Vit C and AHA Prelim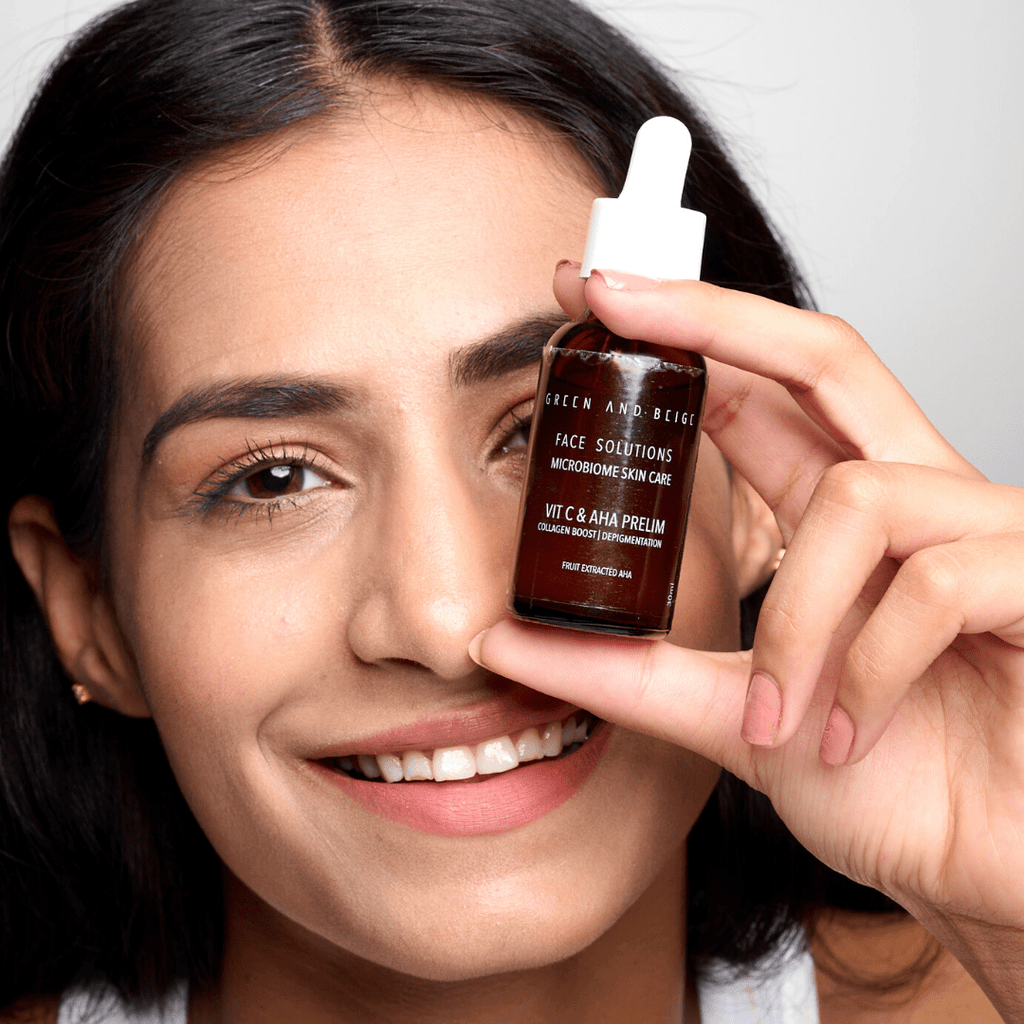 If you have not made a daily application of Vit C part of your skincare regimen, this serum is the best way to get started. It has been formulated with a minimum concentration of Vitamin C, which makes it a perfect fit for 'Vit C beginners'. So, even though it does a ton of good work—skin brightening, skin repair, acne spot removal, tan removal, blemish correction, and improved microbiome balance—it has a mild hand, thanks to gentle actives drawn from aloe leaf, yellow mombin, mango and banana, along with 3-O-ethyl ascorbic acid, a stable form of Vitamin C.  
This special team of actives won't startle your skin into action, but gently create a balanced skin environment that enables your cells to absorb and process Vitamin C to full advantage. If you are scouting for 'teenage vitamin C', we urge you to grab this one without a second thought—it's really that light.  
Also, if you are glued to your phone and laptop screen for hours, this serum offers you all the protection you need from harmful blue light. 
You can trust this knight in shining armour to fall in love with your skin and make it feel good. 
Why you need it 
While your body produces most of the vitamins required for all its functions, Vitamin C is a skin essential that, unfortunately, it cannot produce on its own. This explains why you should not be taking Vitamin C lightly when it comes to skincare. It can help you resolve many bothersome issues on a daily basis—fight off free radicals that speed up ageing; protect your skin against damages caused by harmful UV rays; tackle dark spots; and subdue fine lines.  
Having said that, Vitamin C is also a potent operative that should not be slapped on recklessly if your skin is not habituated to its amazing powers. So, if you are a Vit C beginner, this serum is the soft prep your skin deserves, especially if you are battling acne, blackheads, dead cells, and blocked pore etc.  
Yes, there is a good reason why we call it Vit C Prelim. It is indeed a preliminary-level Vit C warrior that helps your skin take baby steps to absorb all the rich goodness coming its way. 
How it works 
Earth's whisper-soft kisses packed into a bottle.  
That's how gentle Green And Beige Vit C and AHA Prelim serum really is.  
When we formulated it, our goal was to succeed at a serum that would speak to your skin's readiness to take things in. (If you simply pat in any Vit C serum without evaluating its intensity, you could do more harm than good.)  
We have used a modest measure of 3-O-ethyl ascorbic acid, a stable form of Vitamin C that prevents the synthesis of melanin (no more pigmentation woes); promotes the synthesis of collagen; and hunts down the free radicals that cause oxidation and accelerate ageing. However, it does all of that with a light touch, so your skin is not 'alarmed' into action. This also makes it a wonderful night repair cream.  
The fruit pulp extracts in it—of yellow mombin, mango and banana—make for light AHAs that exfoliate gently, promote cellular renewal and ensure deeper penetration of Vitamin C actives. (Unlike synthetic AHAs, which come with loud claims of overnight action and disturb the skin environment in the long run, fruit-based AHAs are less-shout-more-love and never on a rampage.) 
To keep your skin's natural microbiome robust and balanced, we have added alpha glucan oligosaccharide, a prebiotic microbiome active that strengthens your skin's natural defense against harmful micro-organisms. We've also gotten in a good measure of red bell pepper extracts, which have powerful carotenoids that absorb blue light emitted by digital devices and thus prevent photoageing.   
As the core emphasis of every Green And Beige product is to make sure your skin is lush with moisture at all times, the Prelim serum too is loaded with intense humectants and hydration actives such as aloe leaf juice, sodium hyaluronate, and saccharide isomerate.  
If this sounds like a do-gooder, it's because it really is.